Trade Platform

Official Website
Registry Information
LocalBitcoins Oy is registered in the trade register of Finland, under business-ID 2855415-2.
LocalBitcoins Oy is registered with the Finnish Financial Supervisory Authority. Contact information of the regulator: https://www.finanssivalvonta.fi/en/.
About LocalBitcoins
LocalBitcoins is a person-to-person bitcoin trading site.
At LocalBitcoins, people from different countries can exchange their local currency into bitcoins. We allow users to create advertisements where they can choose the payment method and exchange rate for buying and selling bitcoins from and to other LocalBitcoins' users. By replying to these advertisements, a trade chat is opened and escrow protection is automatically activated. Escrow protects both buyer and seller by keeping the bitcoins safe until the payment is done and the seller releases bitcoins to the buyer. LocalBitcoins also provides a web wallet from where you can send and receive Bitcoin transactions.
Trade Bitcoins Online
Buy Bitcoins Online
Sell Bitcoins Online
How To
Steps
If below pictures are not shown, you should get a VPN.
Step 1. Register
Register an account with LocalBitcoins. You get a free and secure online bitcoin wallet. No additional apps are needed. If you already have an account, skip to the next step.
Step 2. Search for advertisements
Go to the main page and in the search box fill in the form with the amount you want to buy in your currency, your location and choose a payment method. If you're unsure how you want to pay, choose "All online offers" as your payment method. The site will list bitcoin traders available in your region.

Step 3. Select an advertisement
From the list of advertisements, choose one from a trader with a good reputation score and a high amount of trades. The response time indicator shows if a trader replies within five minutes (green), within 30 minutes (yellow) or slower than 30 minutes (grey). You can click the 'Buy' button to view more information about an advertisement.

Step 4. Pay the seller
After you press the 'Buy' button you'll see more information about the advertisement, including the terms of the trade. Read through them before submitting the trade request, if you don't agree with them you can go back to the previous page and choose another advertisement.
To start the trade, type in the blue box how much you want to buy, enter a message for the seller and click the Accept terms and send trade request button to the start the trade. Be sure you're ready to pay when clicking the button, if you don't pay before the payment window is over, the trade will be automatically cancelled.

Step 5. Mark payment complete
Once you have made the payment, click the I have paid button. Once the trader has verified that your payment has been received your Bitcoin will be released from escrow and they are instantly available in your LocalBitcoins wallet.
And that's all there is to it, congratulations on your first Bitcoin trade!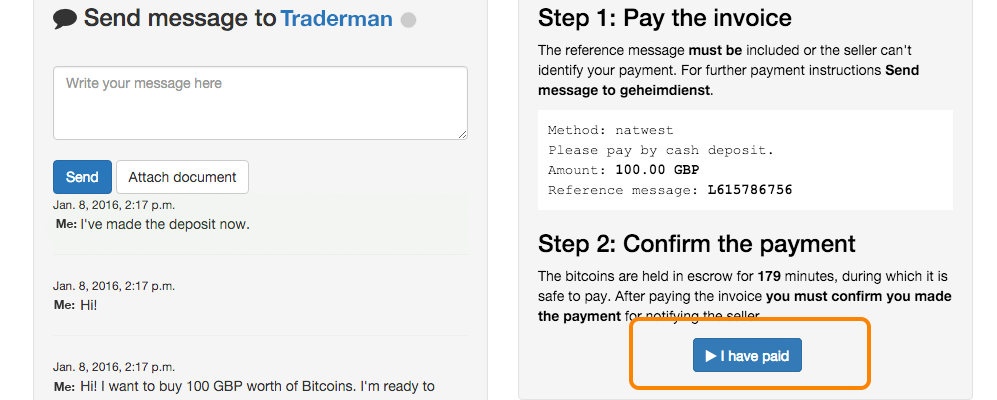 Video